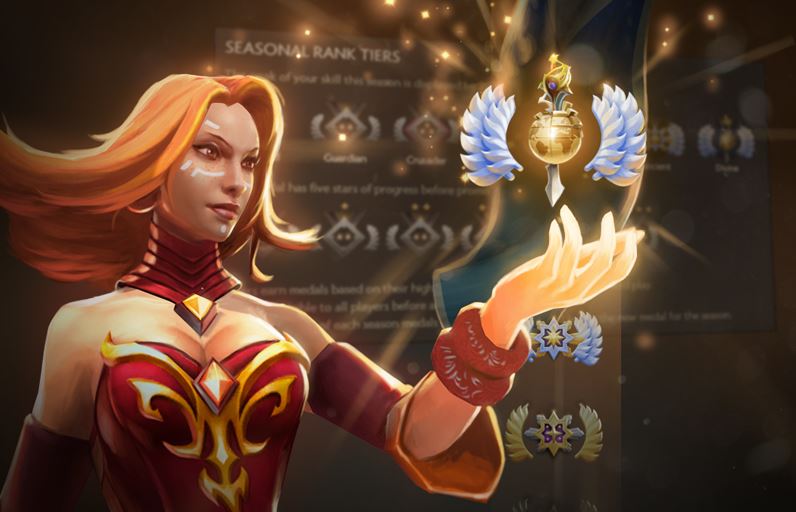 Teknosid.com – Pada bulan lalu tepatnya 22 November 2017, Dota 2 telah merubah sistem ranking menjadi Rank Medal (Seasonal Ranked) yang sebelumnya MMR pada update patch 7.07, sistem rank tersebut kurang lebih sama dengan game Overwatch yang perlu di kalibrasi.
Jika MMR menurut angka, Rank Medal nantinya menampilkan logo dan nama rank tersebut sesuai skill Anda, ada 7 tingkatan rank antara lain:
Herald
Guardian
Crusader
Archon
Legend
Ancient
Divine
Jika Anda baru memulainya diperlukan kalibrasi untuk menentukan rank yang Anda dapatkan, yakni dengan bermain ranked 10 kali nantinya akan otomatis sistem tersebut memberi posisi rank mana yang Anda miliki.
Tidak sepenuhnya angka MMR hilang, Solo MMR masih tercantum di profil leaderboard selain itu rank medal jika ingin cepat naik harus matchmaking solo serta untuk rank mendapatkan rank Divine diwajibkan matchmaking solo.
Perlu Anda ketahui juga setiap 6 bulan sekali rank akan di reset.
Ini dia tabel perbandingan antara MMR dan Rank Medal, tabel tersebut hanya perkiraan bukan resmi dari valve, hanya saja jika diperhitungkan hampir sama.
Selain itu untuk mendapatkan rank seperti dibawah ini Anda harus masuk ke Leaderboard sesuai region masing-masing seperti Amerika, Eropa, Asia Tenggara, China.
Tampaknya dengan hadirnya sistem rank baru ini membuat pemain resah ataupun menyambut dengan baik, dan akhirnya game dengan genre Moba ini hampir semuanya menggunakan sistem rank medal, seperti kompetitornya League of Legends dan moba di smartphone Mobile Legends, Arena Of Valor.
Sumber referensi: Dota 2 / Gamepedia