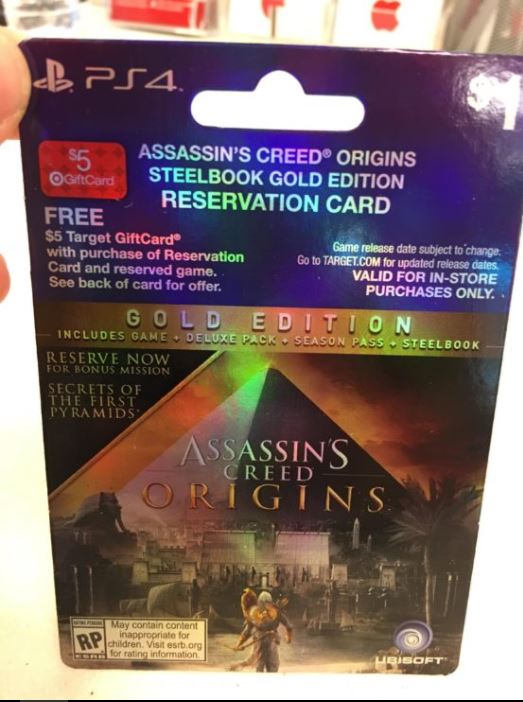 Game dari Ubisoft yaitu Assassin's Creed Origins adalah penerus dari seri sebelumnya yang telah vakum 1 tahun. Bocoran demi bocoran yang beredar di-internet seperti background tempat yang akan berlokasi di Mesir hal ini makin terlihat bawha Assassin's Creed Origins dalam waktu dekat ini akan segera hadir bagi penggemar setia game ini.
Baca juga : Processor Intel Core i9 Resmi di Rilis
Foto yang kami peroleh pada laman wccftech.com pada foto tersebut memperlihatkan kartu yang bertuliskan Reservation Card ( kartu pemesanan)PS4 untuk Steelbook Gold Edition bergambarkan Assassin Creed Origins lengkap dengan latar Mesir, Pyramid, Sphinx.
Belum diketahui kapan Assassin's Creed Origins ini dirilis secara resmi. akan tetapi game Ubisoft lainnya yang akan muncul seperti Far Cry5 sudah di jadwalkan akan rilis pada tahun 2018.
Baca juga : Xiaomi Mi Max Telah Terjual 3 Juta Unit Dari Pertama Rilis
Tak perlu penasaran pada tanggal 10-Juni_2017 akan segera diselanggarakan acara bergensi tahunan yaitu E3 2017 (Elektronik Entertaimen Expo 2017) akan menjadi jawaban untuk tanggal perilisannya apakah akan hadir pada tahun 2017? oh iya pada Steelbook Gold Edition akan mendapatkan tambahan Deluxe Pack, Session Pass dan Bonus misi yang bernamakan Secrets of the Pyramids.
Untuk info artikel terbaru bisa follow social media TeknosID.com 🙂