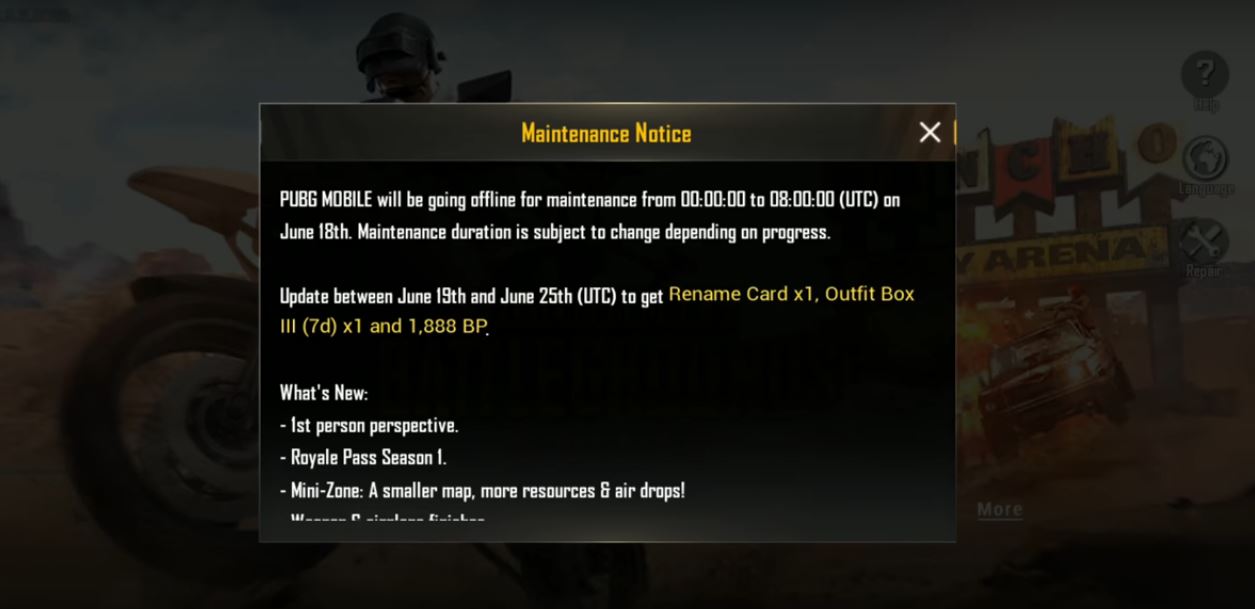 TeknosID.com – Mungkin dari Anda saat ini kebingungan karena loading terus dan mengalami masalah server. Pasalnya pada hari ini PUBG Mobile sedang melakukan maintenance yang bertujuan untuk update patch. Pada update tersebut banyak fitur baru yang hadir.
Agar Anda bisa memainkan kembali PUBG Mobile, Maintenance akan berakhir pada tanggal 18 Juni 2018 tepatnya pada jam 08:00 Cordinated Universal TIme (UTC), Jika dalam waktu Indonesia bagian barat (WIB) akan selesai pada jam 15:00.
Kemudian apa saja update PUBG MOBILE versi 0.6.0 ini? Selengkapnya bisa dilihat list di bawah ini:
1st person perspective

FPP (First Peson Perspective) mode, yang dimana Anda bisa merubah tampilan kamera hanya terlihat senjata saja.

Royale Pass Season
Mini-Zone: A smaller map, more resources and air drops

Nantinya ada mode gameplay dengan map yang kecil, lebih banyak loot dan air drop

Weapon & Plane Finishes

Skin untuk senjata dan pesawat

View weapons in the new Armory

Memperlihatkan statistik yang ada pada senjata

Pistols now get their own UI

Nantinya ada akan ada slot 3 slot, slot tersebut dikhususkan untuk Pistol

Melee weapon can destroy.

Senjata tangan bisa merusak kendaraan

Individual teammates can be muted.

Anda bisa mute salah satu anggota tim

Post-match results screen.

Post-match result terbaru yang bisa Anda share.

Tier protection system.

Tier Rank tidak akan turun ketika tier portection sudah aktif pada waktunya

Asian character models.
Emotes.
Able to link 2 social networks

Bisa menautakan dua sosial network pada akun PUBG Mobile Anda

Added room cards.
New items in the shop
Items can be gifted

Item bisa dikirim kepada user lain.
Itulah 16 update yang ada di versi 0.6.0 ini.
Kemudian update antara tanggal 19 – 25 Juni Anda akan mendapatkan item Rename Card 1x, Outfit Box III (7 Hari) dan 1,888 Battle Poin