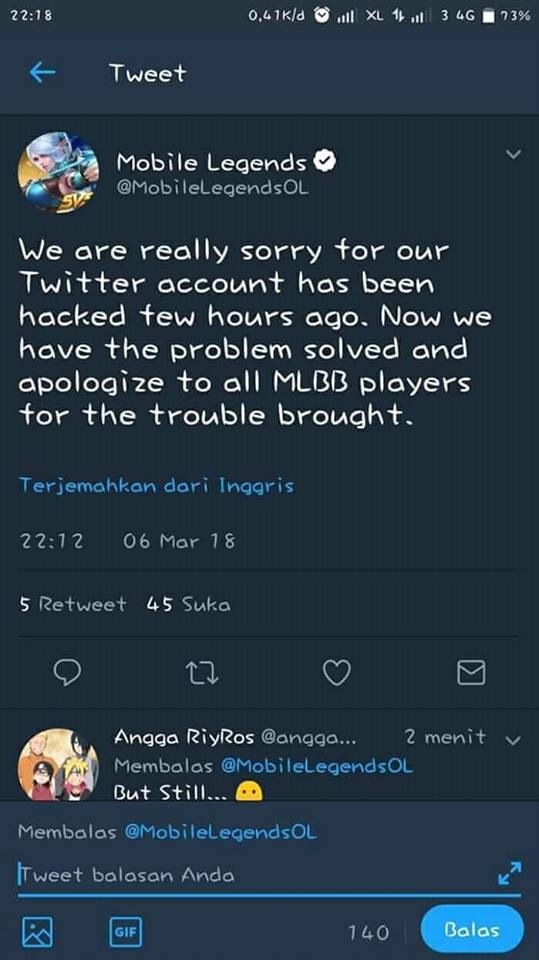 Pada tanggal 6 Maret 2018, tepatnya pukul 22:00 WIB. Akun Twitter resmi Mobile Legends sempat diretas. Informasi tersebut berasal dari pengguna Facebook yang menyebarkan Screen Shoot dari Twitter, yang didalamnya berisi komentar bahwa pihak Mobile Legends merasa terganggu atas keluhan mengenai Plagiarism dan sindiran untuk pemain Indonesia bahwa pihak Mobile Legends hanya fokus untuk pasar di region United State (US).
Dalam kurun waktu 12 jam, postingan tersebut mencapai 2 Ribu lebih bagikan. Untuk lebih lengkapnya ini komentar dari twitter resmi @MobileLegendsOL ,:
Please stop messaging us, we've made our cash form copying @LeagueOfLegends. Stop annoying us with costumer support message services. We need some time off to enjoy life. Thanks!
And Indonesians, we abhor you. Thanks to for easy $$$. We only care about the US market anyway, SEA? More like SEA YA
@ArenaOfValor. yes you might have better graphics and gameplay, but we have a rapid army of fans with no sense of reason
Tak berselang semua komentar tersebut dihapus, kemudian pihak Mobile Legends langsung membuat postingan permohonan maaf, dan mengaku bahwa komentar tersebut di retas.
Namun saat ini postingan permohonan maaf tidak ada. Pernyataan dari pengguna facebook, bahwa ia sempat melihat komentar tersebut dan sekarang sudah hapus semuanya beserta  postingan permohonan maaf.
tag: Hacked, Hack